Is your fibre network performing as required?
Inspection of patch panels and hardware devices
Dirt, dust and other contaminants are the enemy of high speed data transmission over optical fibre.
With today's network applications requiring more bandwidth and loss budgets being tighter than ever before, it is imperative that all optical connections are clean and free of contaminants to ensure network operation.
Fault finding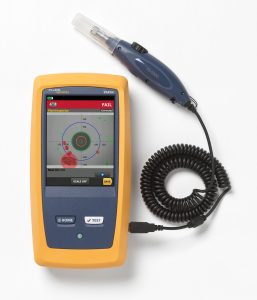 Using the latest Fluke testing and fault finding equipment we are able to diagnose fibre faults quickly and efficiently
Fibre inspecting
Video inspection of hardware, patch panels and patch leads.
Note : This is the only practical way to inspect most hardware devices and patch panels where disassembly is not a realistic option
Cleaning of Dirt and contaminants with specialised Fluke and senko fibre cleaning products
Once contamination has been discovered using a fibre microscope, it is crucial that it be properly removed to avoid creating more problems. Proper cleaning products and procedures are a requirement as improper processes are not only ineffective, but also potentially damaging.
Effective fibre optic end-face cleaning involves two key components: specialised cleaning products and the knowledge to use them correctly.
After cleaning, always inspect the end-face again before insertion to guarantee all contaminants were removed.
It is equally important to inspect and clean both sides of any connection as contamination can migrate from one end-face to another upon insertion.

Acceptable

Acceptable

Unacceptable
Unacceptable
Spot the Fibre?
* Call 0118 9671078 to make an appointment
All our work is fully tested according to industry standard practices and procedures and include as required.